One of the most-used cabinet spaces in the house is found in the Kitchen.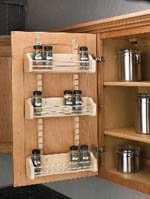 The options are endless when it comes to personalizing your kitchen, and Schmidt Furniture has you covered.
Kitchen Cabinets (and even bathroom cabinets) have more potential than ever before. This means that with Schmidt Furniture's wide variety of custom cabinet solutions, you can accessorize your cabinets and make your space fit your specific tastes and needs.
From fold out mixing stands, hiding cutting boards, and multi-tiered lazy susan's; to drawer inserts, spice racks and trash bins, these accessories are a great way to make the most out of your cabinets, and are designed keep your home organized and efficient.